Milwaukee MX FUEL™
---
The new Milwaukee MX FUEL range is engineered for the toughest demands.
---
---
---
POWERSTATE™ Brushless Motor
Built with maximum copper content and top-grade rare earth magnets, each tool in Milwaukee's MX FUEL™ range has been uniquely engineered for its individual demands and optimised for the perfect combination of performance, portability and productivity.
REDLINK PLUS™ Intelligence
With the most advanced system of equipment electronics in the industry, these tools are protected with best in class thermal and overload monitoring to deliver in-application communication and superb performance.
---
MX FUEL™ REDLITHIUM™ Battery Pack
---
All MX FUEL™ batteries fit all MX FUEL™ equipment
Milwaukee are committed to protecting your investment by providing high performing, trade-focused solutions that are fully compatible with MX FUEL™ REDLITHIUM™ batteries.
The patented design protects against drops, water and harsh environments. The robust electronics optimise performance for every tool and battery combination. This is the market leader in lithium-ion technology.
---
---
---
THE MILWAUKEE MX FUEL™ RANGE
---
The best 14" cut off saw experience
MXF314-1XC - MILWAUKEE MX FUEL™ 14" CUT OFF SAW
The Milwaukee MX FUEL™ 14" cut-off saw enjoys a full 14" cut capacity, delivering the fastest cuts from start to finish with no gas headaches.
---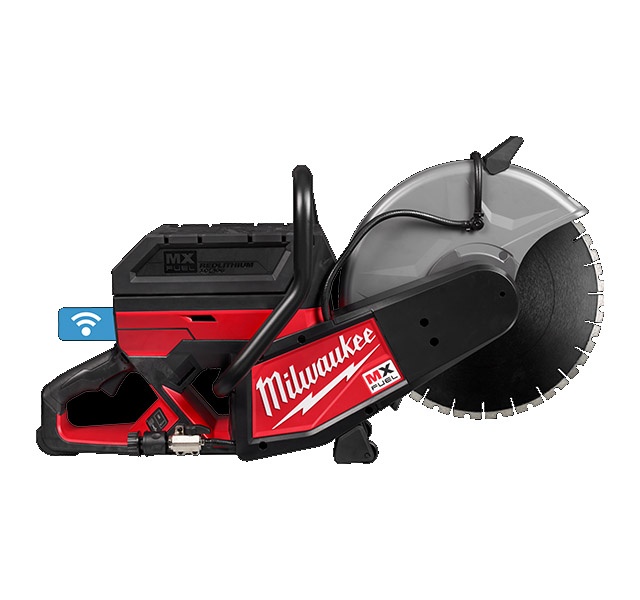 The Milwaukee MXF314-1XC

MX FUEL™

14" cut off saw can cut up to 5" depths in every application, finishing the job with fewer passes. To maximise its versatility and prevent time wasting finding a compatible blade, a 20mm/1" arbor adapter is included in your purchase.
Using Milwaukee's ONE-KEY™ system, you'll be able to track, manage and secure equipment from computer or your mobile using the industry's largest Bluetooth community tracking network. You'll be able to prevent tampering with the remote lockout capability if the tool is ever lost or stolen.
Use the saw for both wet and dry applications with the Onboard Water Connection, a universal quick connect hose that ensures effective wet cutting in masonry and concrete.
Start the saw in seconds with the Push Button Activation. It requires 97% less effort than the repetitive recoil motions of a pull start, so you can get the job done quicker.
The wheels at the front of the saw help to create a straight, consistent cut with less strain.
---
---
---
Faster, safer, easier demolition
MXF368-1XC - MX FUEL™ BREAKER
For highly productive demolition, the MX FUEL™ Breaker is lightweight, enjoying the lowest vibrations and two tons per charge.
---
Delivers fast, safe and easier demolition, with LED lights providing light when your surroundings are dark.
Benefits from a front handle, for easier transportation and manoeuvering around the job site.
The anti-vibration body helps limit vibrations and provides a comfortable grip while you're operating.
It enjoys a 1-1/8" HEX tool holder for maximum durability for the most demanding applications.
---
---
Safer handheld coring
MX FUEL™ HANDHELD CORE DRILL WITH STAND - MXF301-2CXS
For the easiest coring anywhere, the Milwaukee MX FUEL™ handheld core drill has the power to core 6" holes in reinforced concrete.
---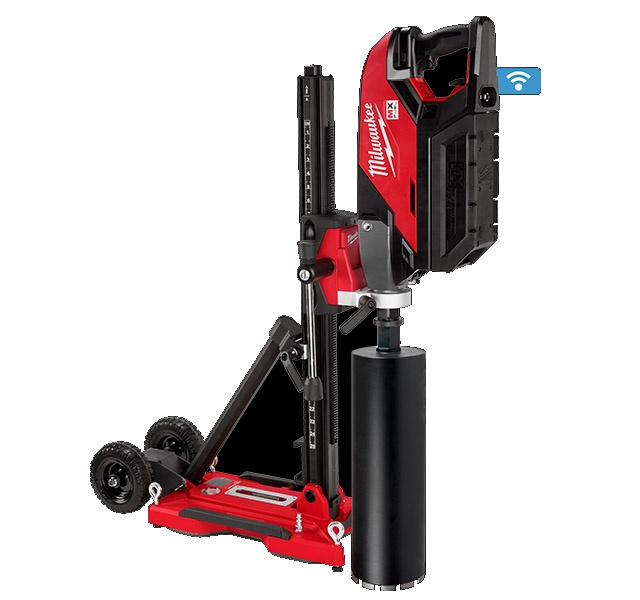 Delivering a safer handheld coring experience with AUTOSTOP™ and patented clutch by giving you maximum control and preventing over-rotation in case the machine gets bound up.
With an adjustable angled mast setting, and the option to anchor or vacuum, you can turn the handheld core drill into a portable, lightweight, rig-mounted solution with the Compact Stand.
The Integrated Pressure Gauge helps maximise productivity and runtime by providing the most efficient drilling pressure
The LED Level ensures easy, accurate handheld holes.
Core in both wet and dry applications using the Onboard Water Connection, a universal connect hose that ensures effective drilling in even the toughest applications.
Part of the ONE-KEY™ system, you can track, manage and secure your handheld core drill from both your mobile device or your computer with the industry's largest Bluetooth® community tracking network. If ever lost or stolen, you can prevent tampering with its remote lockout ability.
---
---
---
---
THE NEW WAY TO LIGHT THE SITE
MX FUEL™ ROCKET™ TOWER LIGHT/CHARGER - MXF041-1XC
The MX FUEL™ ROCKET™ Tower Light is the most portable 10' light, delivering 27,000 lumens, inside or outside.
---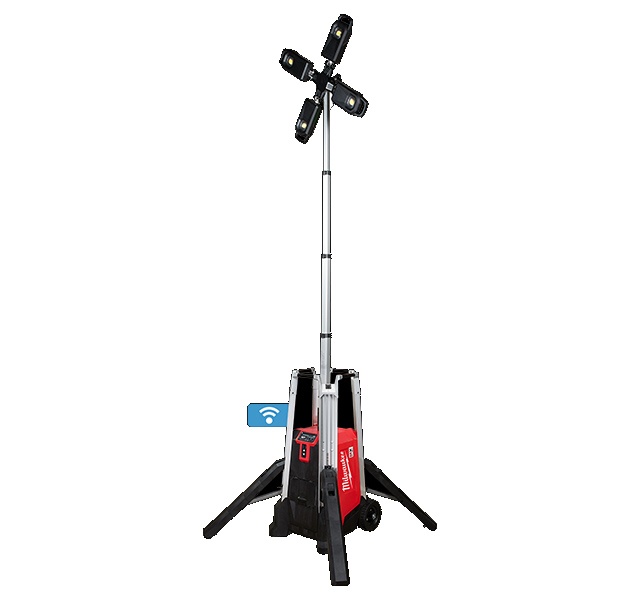 Providing up to 27,000 lumens from four adjustable light heads, the Milwaukee

MX FUEL™

Rocket Tower Light can direct light wherever needed.
The 8" all-terrain wheels allow you to easily move the rocket tower across uneven ground with less effort and it can collapse down to 44" for easy transportation and storage.
The adjustable light heads can be extended to 10' by the motorised mast and set up in just seconds. The light heads can be adjusted to minimse shadows when casting light downwards.
Built to thrive in the toughest enviroments, the MX FUEL™ ROCKET™ Tower Light enjoys superior impact durability with its polycarbonate lens and reinforced impact-resistant legs. The center of gravity is low providing a stable base on uneven surfaces.
The battery box is sealed to ensure batteries are kept dry at all times.
The MX FUEL™ ROCKET™ Tower Light is ONE-KEY™ compatible. From your mobile phone you can set the runtime which will adjust the output of the light to give constant illumination for the job at hand. You can check the remaining battery charge to know when it's time to change and track and manage the light directly from your phone.
---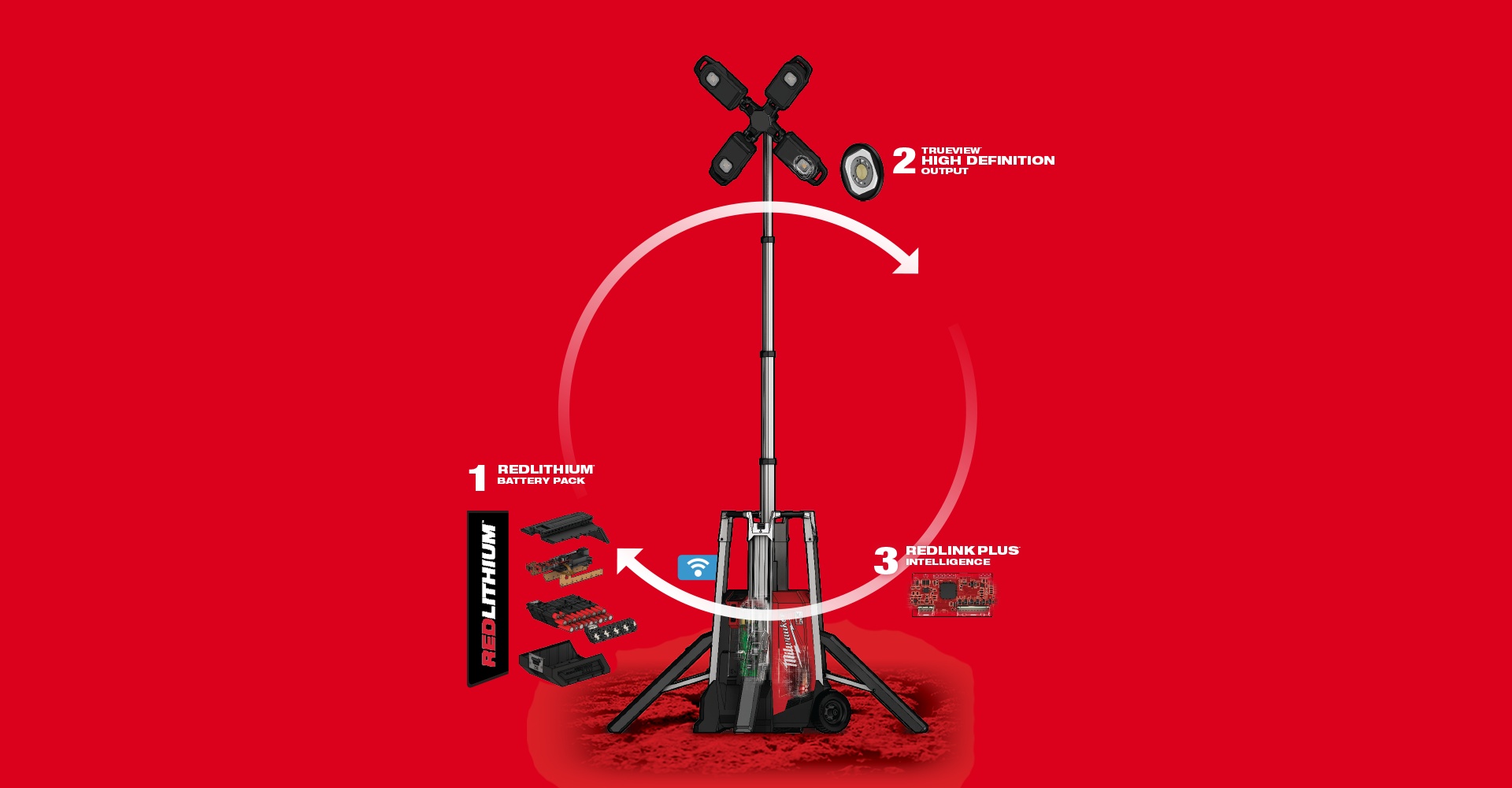 ---
---
Sewer calls simplified
MX FUEL™ SEWER DRUM MACHINE W/ POWERTREDZ™ - MXF501-1CP
Keep mess contained with the portable MX FUEL™ Sewer Drum Machine giving you the power to clear roots at 200'.
---
For easy one-person transportation, POWERTREDZ™ Lift Assist Technology allows you to lift the drum in and out of your van or up and down stairs.
The CABLE DRIVE™ allows you to automatically feed and retract the cable.
Quickly stop cable from feeding or retracting with RAPID STOP™.
The enclosed drum protects against spinning components, containing the mess.
You can track, manage and secure your Milwaukee MX FUEL™ Sewer drum with Milwaukee's

ONE-KEY™ system.

If ever lost or stolen, protect your sewer drum from tampering with remote lockout capability.
---
---
---