About Us
If this is your first visit to our website, you might think that we're a new company, but ToolStore UK is a long-established family business of four generations and is one of the UK's leading independent tool suppliers. We have decades of experience in selling both directly to other businesses and to tool users of all skill levels, from trade professionals through to DIY beginners. We pride ourselves on offering great value for money and fantastic customer service, which is part of the reason we've thrived for so long.
ToolStore UK is the brand name of Entwistle & Joynt Ltd. Our business was established in 1963 by Tom Entwistle and Graham Joynt. Our founders met at the Empress café in Wigan (which later became Wigan Casino) from which Tom Entwistle would collect waste food for his pig farm. Graham Joynt had been a buyer for an engineering firm; they struck up a friendship and decided to go into business together.
In the intervening six decades, we've always been a family-owned and run company, based in Wigan, Lancashire; our current site is literally a stone's throw from their first premises, on the corner of Walmsley Street and Darlington Street.
The History of ToolStore UK
Over the years, our business has changed and evolved in line with our customers' needs. Here's a brief timeline of some of the main highlights of our 60 years in business.
---
---
The 1960s
Having set up their business to serve the engineering businesses in and around Wigan, Entwistle & Joynt made an early move into power tools. Having bought their first shop at 33 Darlington Street, the founders only had £500 spare for stock. On opening day, a lot of the boxes on display were empty!
In May 1964, the business became stockists of Wolf Tools – then the leading British power tool brand - and forged a relationship with Stanley-Bridges (now part of the Stanley Black & Decker group) which continues to this day. Before the decade was out, the business had moved to 55 Darlington Street East.
---
---
---
The 1970s
When Makita entered the UK market in 1972, one of the first businesses to carry their tools was ours. The partnership has grown and endured for half a century. This was also the decade in which Tom's son, Paul, joined the firm after graduation.
During this time, the business transitioned into a specialist provider of hand and power tools, predominantly to the building trade.
---
The 1980s
By 1984, the business had grown so much that another move was necessary, this time to the site of the old 'New Jerusalem' School on Warrington Lane. The site had become derelict, and the business spent more than £20,000 on the roof alone. By this time, the company was predominantly a wholesale business with a retail operation, but retail customers who visited were given the same excellent service as a merchant placing a bulk order.
Sadly, Graham Joynt passed away in 1987 and the business was taken over entirely by Tom and Paul Entwistle.
---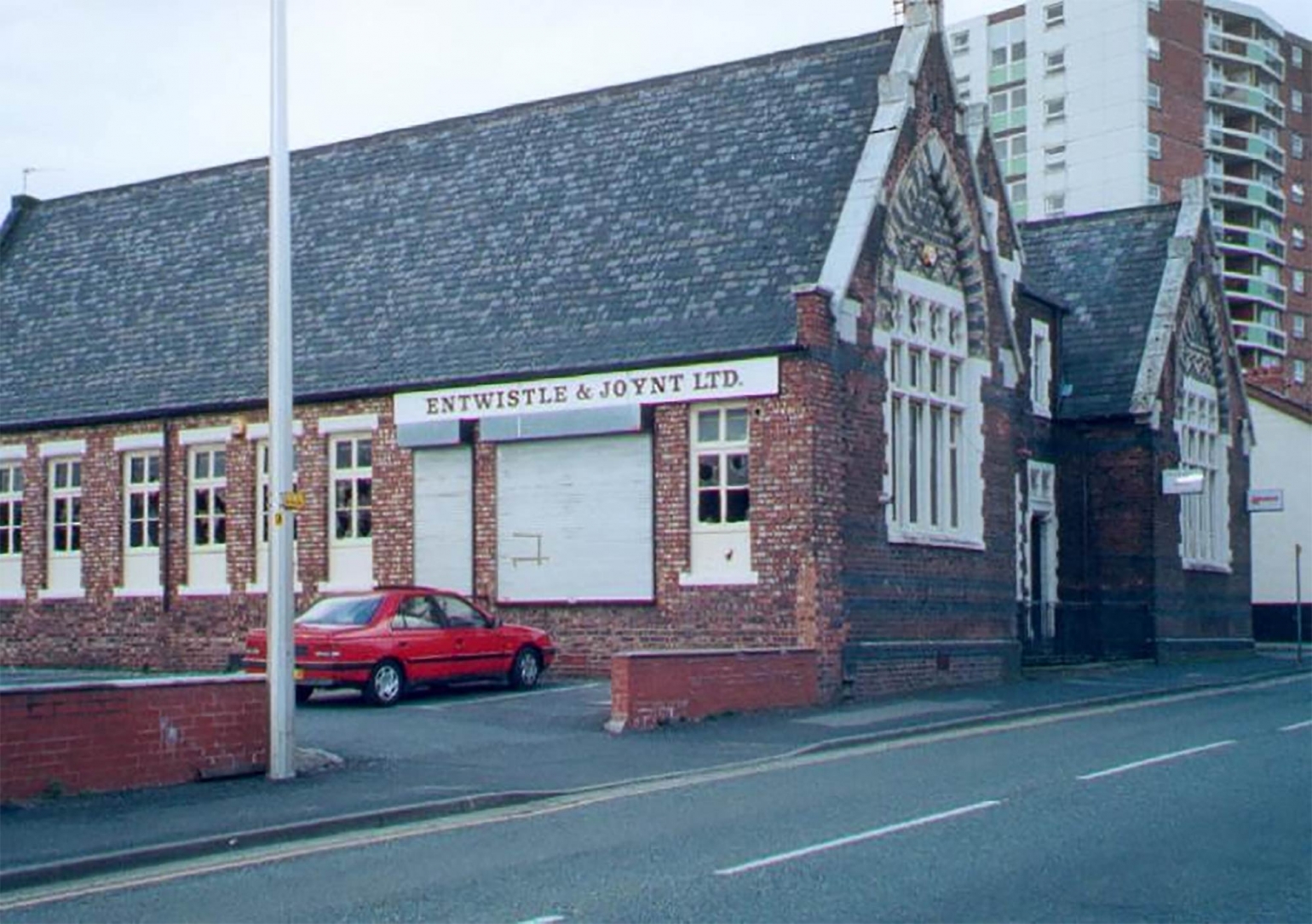 ---
The 1990s
In 1992, Paul Entwistle's eldest son, Iain, began his association with the firm by sweeping the floors during the school holidays. Three decades later, Iain is now a Director of the company and looks back fondly on this era: "it was like going to work with your best mates every day".
Alex Grade Ltd – who were based in Ashton-under-Lyne and traded as North West Tools – was bought by the business in 1995. North West Tools was predominantly a Hand Tools wholesaler with a significant regional footprint, into which Entwistle & Joynt was able to grow wholesale power tool sales.
The following year saw the business purchase Little Sheffield, a much-loved Blackburn tool retailer with a strong reputation for woodworking tools. Little Sheffield was soon relocated to larger premises in King Street and the retail side of the business branded as The Tool Centre, with North West Tools becoming the corporate identity for the wholesale business.
Dave Entwistle – Paul's second son – officially joined the business in 1997 although, like his brother, he had been sweeping floors to earn pocket money during school holidays for a couple of years before that. He has been a Director of the company for more than a decade.
---
The 2000s
The company moved into its current home at 62 Darlington Street East in 2002. The premises are 16,000 square feet and are the hub of ToolStore UK's operations, with hundreds of orders dispatched from the warehouse every weekday.
The second half of the decade saw North West Tools embark on an ambitious drive to take the wholesale business national which helped the business emerge from the economic crash of 2007-08 in robust health. By this time, Paul Entwistle was the Managing Director, although Tom continued to come into work every day until he was well into his nineties.
The 2010s
By 2011, Iain Entwistle had become Sales Director of the company. Iain set out a vision for the business which focussed on the North West Tools wholesale division. As this plan was implemented, the Blackburn store location was closed and Tom and Paul Entwistle retired, leaving the business in the hands of Iain and Dave.2015 was a landmark year for the company in a bittersweet way. Our founder, Tom Entwistle, sadly passed away but his granddaughter, Beth joined the company.
In 2017, the ToolStore UK retail website was conceived. A small team, headed up by Dave Entwistle, developed the site and it launched in May 2018. The online business has gone from strength-to-strength ever since because it combines the speed and convenience of online shopping with the principles upon which our business was founded, which are product and industry knowledge matched equally with outstanding customer service.
The 2020s
In the early part of 2020, the wholesale division of the business was rebranded as ToolStore UK Wholesale and the ToolStore UK website revamped to facilitate online ordering for all the company's customers, whether they are a novice hobbyist or a chain of DIY stores. Beth Entwistle became a Director of the business in 2020 and now leads the company's strategy.
Under the leadership of Beth, Iain and Dave – who are the third generation of the Entwistle family to lead our team - our close-knit team is working towards a bright future for the business.
---
---
Why ToolStore UK?
We stock more than 100 leading brands of power tools, hand tools, workwear and safety gear, and equipment & storage solutions. We also carry a wide range of tool accessories. We can offer our customers an outstanding choice of products because of the strong relationships we've developed with our suppliers.
You'll find some of the biggest names in power tools at ToolStore UK, including Bosch, DeWalt, Makita, Milwaukee and Trend. We also carry top hand tool brands such as Ox, Stanley and Vitrex, and workwear from Regatta, Scruffs and Snickers, amongst others.
We constantly check both our product range and the prices we charge to ensure that all our customers get the best possible value for money. Plus, thanks to the incredible team in our warehouse and our delivery partners, we can offer fast delivery to most UK postcodes.
The ToolStore UK team is, in many ways, like a family and many of the staff have been part of the business for decades. This means that they have the kind of product knowledge and passion for looking after our customers that can't be found at many of our competitors. Our team are always happy to help, whether you contact us via our online form, give us a call, or call into our shop in Wigan. We look forward to you getting in touch and shopping with us here at ToolStore UK.
---